Hit the ground running in 2021 with these key insights from across the tech industry.
~7 minute read
2020 was a year of unexpected change, economic volatility, and social uncertainty. But it was also a year of impressive agility, growth, and innovation developed at hyper speed.
Looking back (hindsight is, after all, 20/20)  it's clear that technology proved instrumental in saving the day for organizations in every industry.
Business software solutions enabled entire companies to go remote within a matter of days, helped teams make strategic decisions with access to real-time data, supported new channels for revenue generation, enhanced digital customer experiences, and more.
In May, McKinsey reported that we'd "vaulted five years forward in consumer and business digital adoption in a matter of around eight weeks."
Read more: Artificial Intelligence in 2020's New Economic Landscape
Evidence that technology reliance has skyrocketed is everywhere. For starters, enterprise leaders expanded their IT budgets by 20% this year. Digital workplace collaboration boomed with Microsoft Teams gaining 83 million daily active users between March and October and Salesforce's notable $27.7 billion Slack-quisition . And on the cloud adoption front, leading businesses expect cloud spend to increase by 47% next year.
ProfitWell CEO Patrick Campbell shared this Twitter thread back in mid-October detailing growth in the SaaS space in the midst of the pandemic.
Campbell joked, "TL;DR, COVID basically doesn't exist in B2B SaaS", drawing focus to the compounding growth and acceleration of new revenue in the market since 2019: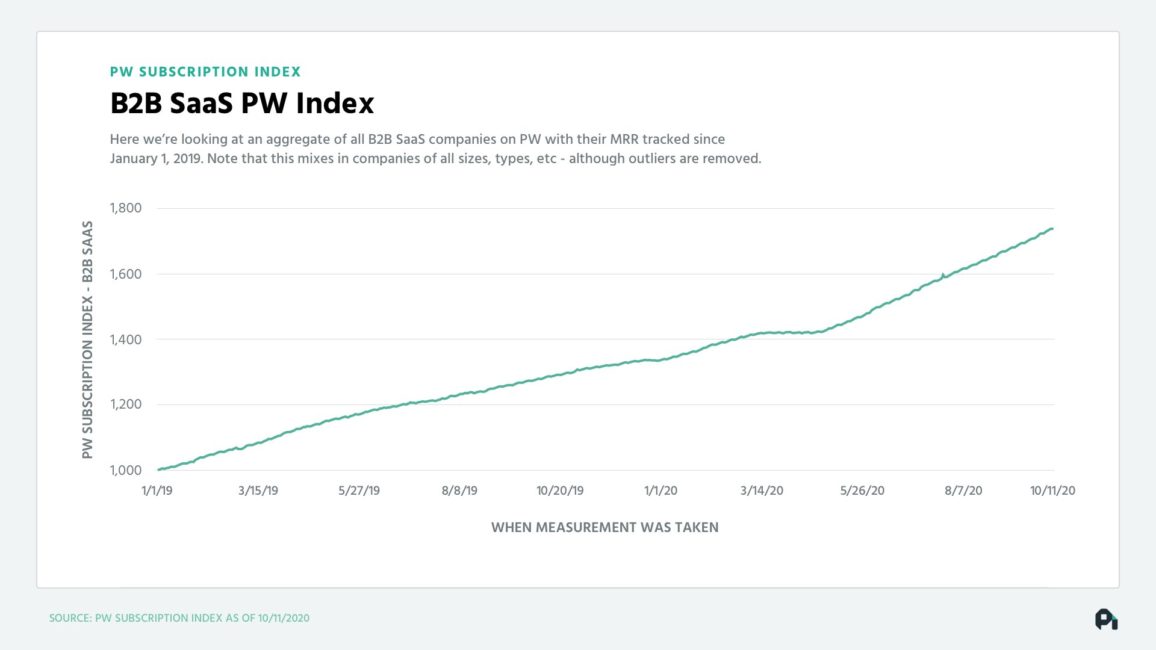 Graph via ProfitWell Subscription Index
Now that digital transformation initiatives are already well underway in businesses around the world, what's next for leaders looking to stay agile and get ahead in 2021?
How can technology solution providers stand out in an increasingly crowded market? And how can they exceed the expectations of customers who demand more from the software they rely on every day?
To answer these questions, we've gathered insights from industry authorities across the web, including Gartner's Top Strategic Technology Trends for 2021, McKinsey's 2020 Global AI Survey, and Accenture's Business of Experience report.
Beyond CX: Business of Experience & Total Experience
From online grocery shopping to virtual movie nights with friends, the pandemic initiated digital transformation in almost every aspect of our lives––not just in the workplace. Customer expectations have become "liquid across different product and service categories."
Digital experiences with software solutions used in the workplace need to stack up against the online retail apps or streaming services customers use in their leisure time.
Exceptional customer experience (CX) will set software companies apart in an ever-expanding sea of consumer options. To get ahead, companies need to bake a holistic CX approach into their culture, a strategy Accenture calls the Business of Experience (BX).
Accenture states: "An experience renaissance is afoot––one that is galvanizing companies to push beyond the CX philosophy and organize the whole business around the delivery of exceptional experiences."
Read more: Conversational User Interfaces: Elevating Data Experiences in Business Software
Similarly, Gartner lists "total experience" as a top up-and-coming trend for 2021. The concept? Total experience links multiexperience, customer experience, employee experience, and user experience to boost business outcomes. When companies optimize the intersections between these experiences, they're equipped to tackle disruption, capitalize on opportunities, and achieve a competitive advantage.
Beyond AI Adoption: Sustainable AI Engineering at Scale
McKinsey's 2020 Global AI Survey revealed that organizations are using AI to boost revenue. Early adopters and industry leaders attribute >20% of their earnings before interest and taxes (EBIT) to AI.
Interestingly, survey respondents reported that it took less time to develop their AI technology than it did to achieve alignment and adoption. Companies that invest in excellent tech but fail to successfully roll out and maintain their AI solutions simply are not achieving the same ROI of high-performing, experience-oriented businesses.
McKinsey identified six practices that those high-performing companies engage in when developing and maintaining AI initiatives. These categories include strategy, talent and leadership, processes and ways of working, models, tools and technology, data, and adoption. They report that organizations with the highest AI-driven EBIT were more likely to engage in almost every practice than those seeing less value. 
Read more: Building Next-Generation Conversational AI for Database Access
Gartner notes that a solid foundation of AI engineering is critical for organizations aiming to move their AI initiatives past proof of concept stages and early prototyping.
AI engineering brings together and operationalizes different disciplines like DevOps, DataOps, and ModelOps, ensuring that AI initiatives are geared towards specific business outcomes and that there's alignment throughout every stage from development and implementation, to iteration and expansion.
AI engineering ensures that improvement and maintenance happen continuously as time goes on. With a solid foundation in AI engineering practices, companies can scale AI initiatives faster and more sustainably.
Beyond WFH: Anywhere Operations & Distributed Cloud
Businesses are continuing to adapt to work from home (WFH) mandates across the globe. But it's not just employees who have been affected by remote working conditions. Customers also need to interact with businesses remotely.
Enabling digital-first, location-independent operations allows businesses to serve customers 24/7, grow customer reach, retain employees during a time of change, and even enter new geographic markets.
Gartner calls this the anywhere operations model. This way of doing business makes digital the default setting for both customer interactions and day-to-day operations, reducing in-person touch points and centring the health and safety of both customers and employees.
Read more: Remote Teams Need Better Data Access Than Ever
To accomplish a successful anywhere operations initiative, organizations need to cozy up to cloud-based solutions and databases. With cloud-based technology, employees can access everything they need to do their jobs without being in the office and customers can get what they need, when they need it, from wherever they are.
In light of this trend, companies are also looking to optimize their cloud usage and associated spending. Gartner projects that the distributed cloud will enable businesses to reduce cloud costs and improve accessibility.
With a distributed cloud, businesses (or their customers) can leverage cloud services that are geographically close to them, reducing response times, cutting data costs, and saving bandwidth. The core benefit of the distributed cloud is that public cloud providers still operate, govern, and maintain the cloud; a much cheaper option than managing a private cloud.
Going Above & Beyond in 2021
We don't know how long the state of the world will be in flux (hint: change is the only constant), but we do know that technology and innovation will continue to help people and businesses grow despite uncertain circumstances.
Digital experiences have been around for a long time, but now they're the new normal, and there's no going back. Tech providers have the opportunity to influence the way people think about and approach work, improve quality of life for employees, and provide innovative solutions to the challenges customers face every day.
Continuous agility, innovation-focused culture, and customer-first strategies will empower today's leading tech companies and the people they serve to thrive in our new digitally-transformed world.