A next-generation interface that makes interacting with digital systems as easy as having a conversation.
~9 minute read
Conversational user interfaces (UI) are on the rise. Thanks to messaging technology embedded in social media platforms and the proliferation of SMS-based communication, we're all more willing than ever to interact with our devices, and each other, through digital conversational mediums. The hardware for voice assistants like Amazon Echo and Google Home enable us to quickly get answers to questions so we can get on with our day, fitting right into our routines as if they've always been there.
We've seen conversational technology reshape online customer service and digital marketing experiences, making it easier than ever for current and potential customers to get support, purchase items, and find the answers they need in seconds rather than standing by on the phone or waiting on an email.
PSFK reports that 74% of consumers prefer chatbots when they're looking for instant answers, with companies that use chatbots in retail seen as efficient (47%), innovative (40%) and helpful (36%).
A conversational UI also makes these digital tasks as intuitive as having an interaction with another human, even though the experience is fully self-serve. Rather than navigating through a series of icons, buttons, or dropdown menus in a graphical user interface (GUI), conversational UIs enable users to reach their goal much faster, simply by stating or asking for what they need.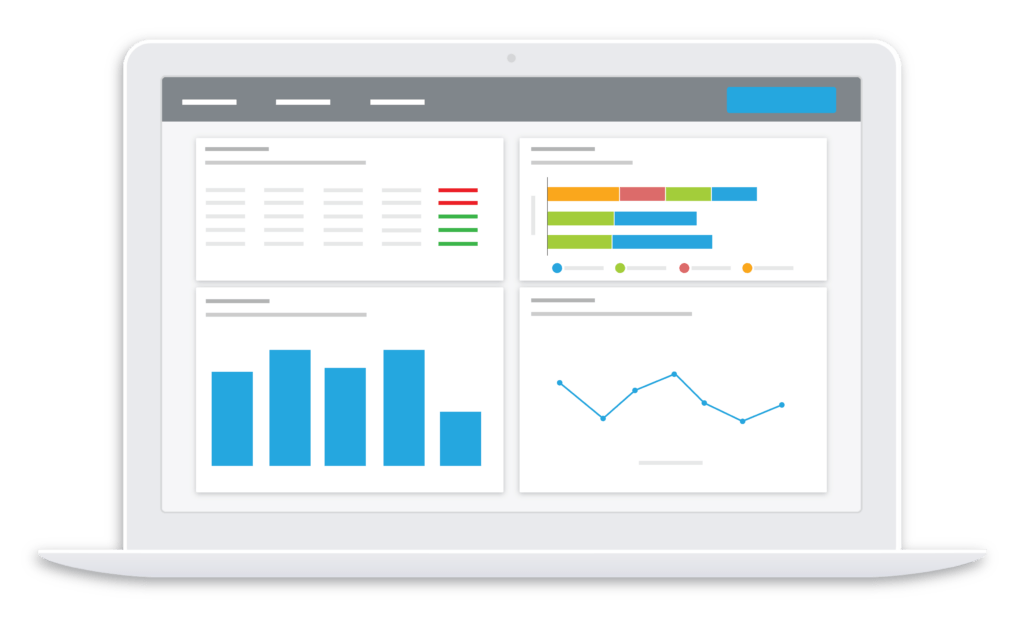 Business Intelligence (BI) tools typically leverage a graphical user interface (GUI) to present data in meaningful visualizations.
Conversational interfaces have created the expectation of immediacy for all of us. We want to order food at the drop of a hat, find tickets to concerts and book flights in a snap, and see if our friends are up for a camping trip this weekend within the hour. We'd rather not learn the layout of a new app or tap through unfamiliar icons just to find what we're looking for.
We want answers to our questions now so that we can take action as soon as possible.
That means GUI architecture needs to continue to evolve not only to meet practical needs, but also to facilitate the frictionless experiences users have come to expect of the apps, software, and digital systems they use all the time.
Evolving the Graphical User Interface
GUIs have long been the status quo in the interface architecture landscape since decades ago when Apple and Microsoft made the personal computer a fixture in our everyday lives.
Most of us are comfortable using the GUIs we navigate on a regular basis, and that's no accident. It's the result of a learned competency, earned through years of navigating and understanding icons, menus, and keystrokes that were meticulously designed and improved upon to be easy for the everyday user to figure out.
While a GUI traditionally consists of visual elements that users interact with by clicking buttons or selecting menu items, a conversational UI allows users to perform these same actions more easily by making requests or asking questions in natural language (NL): the words they use in everyday conversation.
Conversational UIs make it possible for users to exercise greater control and personal preference through their digital experiences and find exactly what they are looking for in seconds, without needing to learn to navigate a complex (or simply new-to-them) interface.
A conversational UI can transform how people interact with digital spaces, eliminating the need for humans to learn within the system's limitations.
GUIs still require an element of autonomous onboarding. We've all felt our muscle memory fail when we move from using a Mac to a PC or vice versa, or when attempting to access an app using a friend's Android instead of our own iPhone.
As the tasks we need to do on a daily basis move to increasingly robust and complex digital platforms, the variety of GUIs that each of us are required to interact with is expanding. With each new GUI––a new software system at work or a new app on our phone––users have to learn the language of icons and the flow of menus all over again.
A conversational UI can transform how people interact with digital spaces, eliminating the need for humans to learn within the system's limitations and instead evolving the system's capabilities to meet humans where they are at.
And humans always arrive, naturally, at conversation.
Driving Value in the Software You Build with Conversational Experiences
When it comes to software, users are inundated with choice. What makes one app or system stand out from the rest is ease of use and time to value (TTV). With a traditional GUI, as noted above, learning powerful yet complex software systems can create friction for users who just want to solve problems and complete tasks right away, without the extra step of learning how to navigate each element of that software's interface.
A GUI augmented by a conversational UI can reduce time spent onboarding and significantly decrease TTV. By implementing a conversational UI into an existing GUI, users have the option to completely bypass the GUI to streamline tasks and find what they are looking for, immediately.
An interface is a "space" that can be compared to a physical environment like a restaurant or a retail shop. The UI is the architecture that users navigate digitally, just like customers move through a bistro or boutique, physically.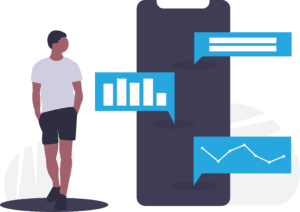 CUIs make it possible for users to find what they are looking for, immediately. 
Both of these customer service experiences combine elements of a GUI with elements of a conversational UI to maximize engagement and satisfaction. Conversational UIs matter in a digital space because conversational interactions are already second nature to humans.
A shop with a great layout, aesthetically pleasing displays, and clearly marked change rooms might be a good starting point in a customer's shopping experience, but these attributes aren't especially helpful when that customer needs to know if there's a size 7 shoe available in the back room. That's where the conversational UI comes in: the customer approaches a staff member, asks for what they're looking for, and the staff member fetches it.
A powerful conversational UI added to an existing software interface works much the same way: giving users intuitive access to the features or information they're looking for by enabling them to simply ask for it in their own words.
Humanizing GUIs for Loyalty & Engagement with a Conversational UI
An effective conversational UI, when designed with the users' uniquely human motivations at its core, allows a product to conform to the needs of individual users, rather than the other way around.
From onboarding and adoption to ongoing use and expansion, a great conversational UI supports a totally personalized experience because the system is responding to each individual and addressing their specific needs where they are already at, empowering the user as the driver of their own product experience.
This contrasts the standard GUI-only model, which requires the user to conform to the rules and structures of the interface already in place.
Giving the user the power to get exactly what they want, when they want it, is the ultimate keystone for memorable, high-value experiences that ultimately lead to greater dependence on the software.
If users can complete tasks efficiently, answer questions immediately, and take action towards their goals (however ambitious or mundane) they're much less likely to churn and much more likely to continue to find value in the systems that offer such functionality.
We see conversational user interfaces becoming the norm across all digital platforms, spanning from app and software solutions to purpose-built web portals.
As a company, we believe that one of the most powerful applications for a conversational UI is in the data access space: augmenting GUIs across existing BI processes, and democratizing access to analytics and reporting for enterprises.
Check out our next post about leveraging conversational user interfaces to transform the way users access the data in the apps or software systems they already use >>