AutoQL for Scheduling & Dispatching Software Users
~3 minute read
Scheduling and dispatching are highly dynamic processes that, when orchestrated strategically, can drastically reduce costs and improve both customer and supplier relationships, thereby boosting revenue. Because of the dynamic nature of these processes, last-minute changes and unanticipated delays require agile thinking and rapid decision making.
Getting the right people and products to the right place, at the right time, takes a high degree of communication and organization. From scheduling delivery times and coordinating loading and unloading procedures, to optimizing inventory and ensuring customers are billed and invoices are accurate, there's no shortage of moving parts that need to be considered. This means there's a lot of data being created at every stage of every process.
Many of today's scheduling and dispatching software solutions are built to help users access and use the information that is entering the system in real time, from multiple sources.
When it comes to optimizing employee performance and resources, it's necessary for key decision makers to have the means to explore this data so they can identify insights and spot bottlenecks before they become expensive issues.
However, in order to stay flexible and better handle real-time issues like delivery refusals, loading dock delays, or traffic jams, personnel involved at every stage of the process (not just top-level managers and executives) need access to data at their fingertips.
Read more: Delivering Instant Data Access on the Warehouse Floor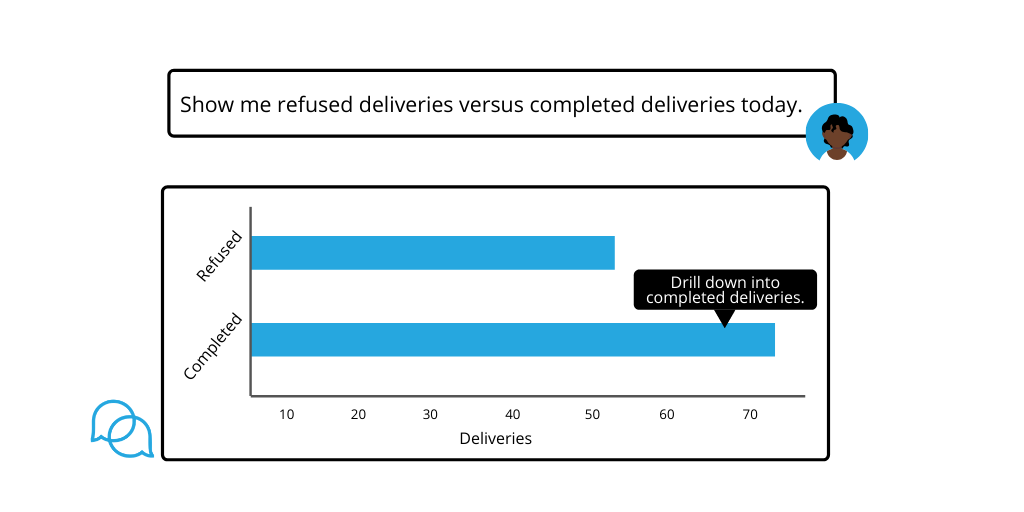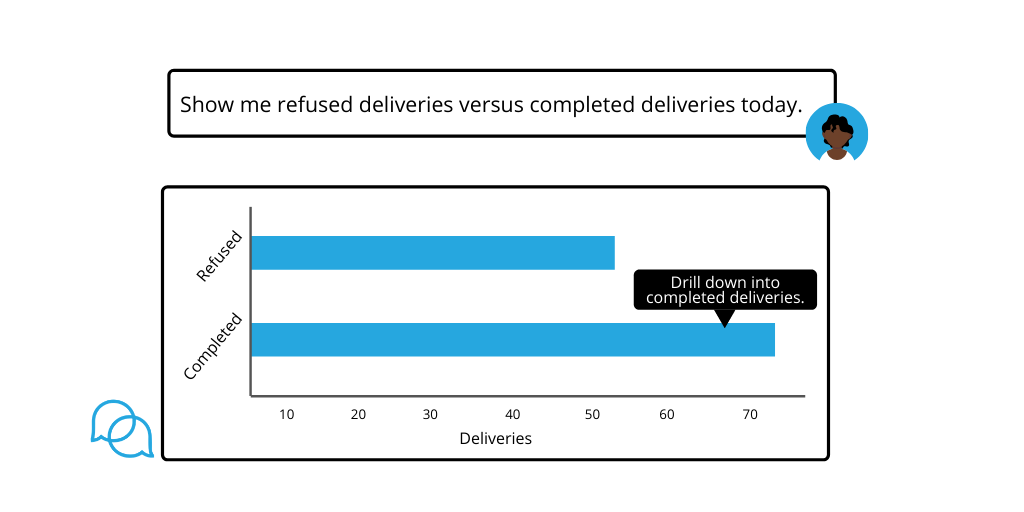 Offer users insights in an instant with analytics that offer real-time answers to the questions they already have about the data they check up on every day.
With a solution like AutoQL embedded in the software they're already using to manage scheduling and dispatching, supervisors or personnel can simply ask for information about things like customers' preferred delivery time windows, loading dock details, and delivery ETAs and receive instant answers that help keep all the moving parts in motion to get the job done on schedule.
With self-serve data access, drivers can quickly ask questions like "What is my ETA?" or "What is the delivery window for customer X?" to ensure that they are running on schedule and take necessary action to communicate with customers and management in the moment.
Dispatchers can ask "Show me all unfinished deliveries today" or "Show me refused deliveries versus completed deliveries today" to get a real-time view of where things are at, so that action can be taken in the moment, rather than waiting for a monthly or weekly report to learn how things are going.
In addition, initial strategic planning can start with data exploration through questions like: "What are the miles per delivery for product X last month?" or "How many missed time windows occurred per month for the last 6 months?"
Questions like "How many drivers did we send out per day this month compared to last month?" or "What is the average cost per mile for each truck that delivered product X this month?" can spur further exploration into where costs can be cut, and how routes can be made more efficient.
Read more: Supporting Strategic Overtime Planning with Data on Demand
With data on demand, team members are equipped to handle the ever-changing nature of scheduling and dispatching. Through immediate, intuitive access to the information that matters most, everyone is empowered to make decisions in real time that increase efficiencies and ensure that customers and suppliers are satisfied.
For scheduling and dispatching software providers, offering this kind of flexibility in data discovery and exploration is a major value-add for users that leads to loyalty, increased usership, and an opportunity to derive even more revenue from both current and prospective users.