AutoQL for CRM & Live Chat Software Users
~4 minute read
Customer service teams who use software systems and tools like live support chat and CRMs are continually tracking internal key performance indicators to make sure each team member is providing the exceptional experiences customers demand, helping to drive the business forward.
Leveraging this performance data is crucial for teams looking to optimize workflows and develop strategy that influences successful customer interactions.
Information about call volumes, response and ticket resolution timelines, as well as customer feedback can help customer service providers pinpoint opportunities for improvement for both the team as a whole and for individual team members.
While a CRM or live chat software may provide some level of tracking and reporting on this kind of data, users who leverage this software are typically trained to prioritize great support, not to sift through data in dashboards or exported spreadsheets.
Moreover, customers expect immediate responses 24/7, and team members don't always have time to reflect on the data and analyze it with the goal of improving their day-to-day workflows and the services they're providing.
Read more: Providing Real-Time Data to Front-Line Customer Service Agents
Customer service teams know that their data can reveal opportunities for them to improve customer experiences and team efficiency. Diving deeply into their customer data, they can discover insights beyond their in-the-moment interactions with individual customers to get a better sense of overall performance.
With a solution like AutoQL, customer service software providers can offer powerful self-serve analytics capabilities to users who want to leverage data to improve the experiences they are providing. It allows users to spend more time caring for customers than keeping up with the high volume of data their software collects.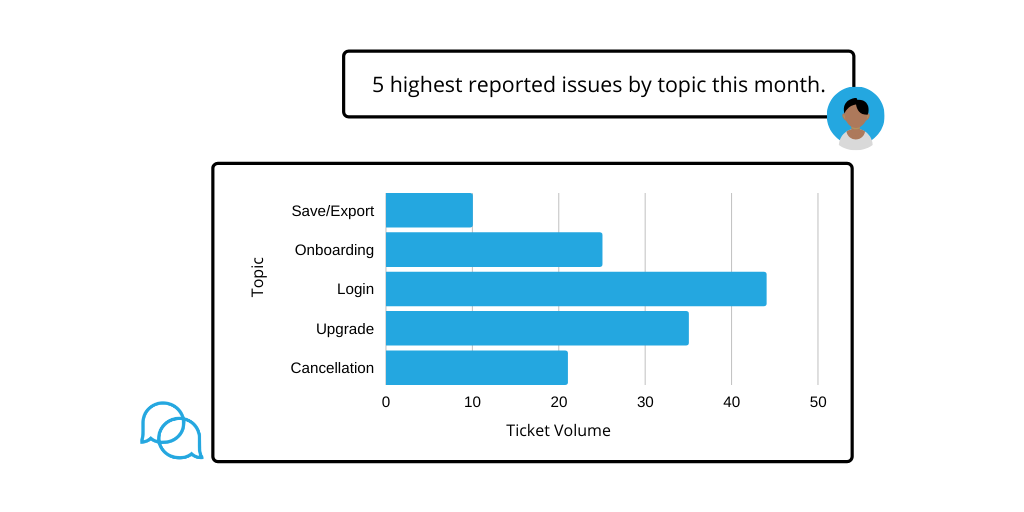 Provide insights that users can leverage in the moment to elevate customer experiences and team efficiency in real time.
Solution providers looking to add value to their software's existing reporting and analytics capabilities can deliver seamless experiences by extending data on demand capabilities to all their users.
Rather than switching windows, checking multiple dashboards, or switching between different customer profiles to gather information about the success of a call or prior support ticket trends, users can just ask questions like "What was my average response time last week?", "How many tickets do I currently have open?", or "What are my average outbound interactions per hour this week?" directly in the interface they're using to conduct their daily tasks.
For example, a customer service team lead may be responsible for overseeing team performance as well as managing the accounts of VIP or premium subscription customers.
Some days begin with an onslaught of customer issues, and there's hardly enough time to check on how the rest of the team is doing.
Before jumping into follow-up emails and responding to live chat requests, the team lead can quickly ask questions like "Who handled the most tickets this week by department?" or "Show me all unresolved tickets this week". If the CRM or live chat solution supports tagging issues, they can even ask questions like "5 highest reported issues by topic this month" and "Average time to resolve issue type X".
Read more: Offer Cross-Functional Teams Exceptional Exploratory Analytics
Customer service happens in real time, and decisions about improving customer experiences need to happen in real time, too.
With this kind of data-rich information at their fingertips, available from wherever they're already doing work in the software, the team lead can quickly check in on performance and issue trends without interrupting their workflow. With the insights they derive from their queries, the lead is better equipped to make quick and, more importantly, informed decisions about team priorities as the workweek goes on.
Teams look to their customer service software systems to help them deliver unparalleled and efficient customer experiences, and data is a key player in continually improving those processes. By offering intuitive data access to every user, software providers can provide new value to their users, earning increased engagement and evangelism that allows them to raise subscription rates and drive revenue for their own business.