AutoQL for Sales Software Users
~4 minute read
Sales team KPIs are a valuable resource for building and improving strategy based on the information that regular interactions with leads and customers provide. But in an extremely competitive market, teams need deeper data and unique insights to drive leads through their pipeline as efficiently as possible while making sure those leads are likely to become loyal customers.
Typically, front-line salespeople are hired to engage with potential customers and drive revenue by leveraging a combination of the training provided to them and their interpersonal skills. They're likely not trained in analyzing data and they rely on their leadership to collect and report on KPIs and communicate that information back to them if, and where, it's applicable to do so.
However, it's vital that every team member has a solid understanding of how their actions and their role ultimately affects the business in order to make informed and high-impact decisions during their regular, day-to-day workflows.
Read more: Driving Success with Sales Data on Demand
With a conversational data access solution like AutoQL, anyone can easily explore the data beyond sales team KPIs to gain insights, even if they aren't highly trained in the available reporting functionality of the software. This allows them to see how their daily achievements fit into the larger strategy and keeps them on track to reach targets and drive the business forward.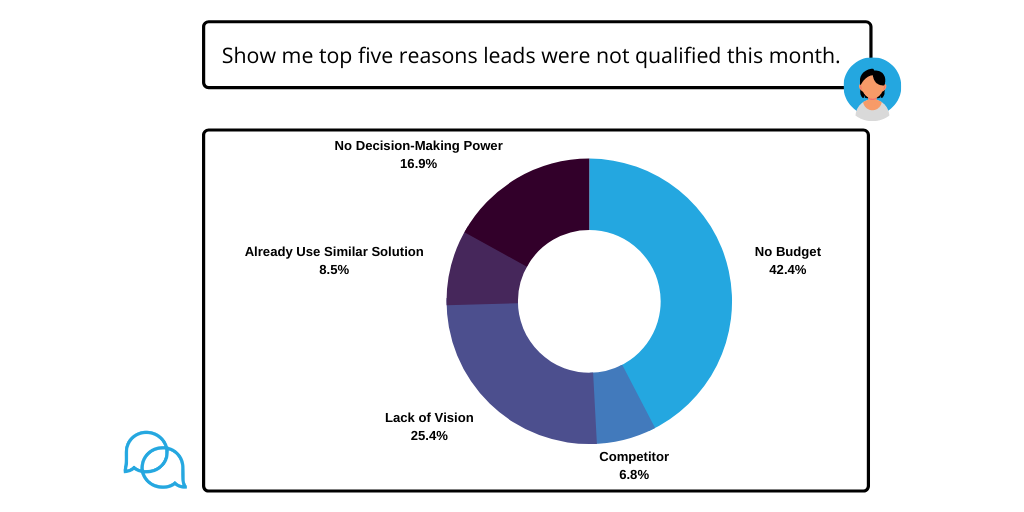 When it's easy for teams to explore underlying data and discover unique insights, they can make more impactful decisions that drive growth and success.
For example, a sales team member might have access to a dashboard that displays high-level KPIs. Looking at this dashboard, the team member generates new questions about specific aspects of the data they'd like to answer right away.
With a conversational user interface like Data Messenger build into their software, the team member can quickly ask for additional information like: "Compare monthly sales to monthly sales target" and "Compare deals lost to deals won over last quarter" or "All sales by stage of deals pipeline".
They can also ask more in-depth questions like "Show me the percentage of qualified leads that converted to discovery stage leads this month", "Show me closed won versus closed lost this quarter", and "Show me top five reasons leads were not qualified this month".
Curious about new data coming into the system in real time, they can simply ask questions like "Total cold outreach calls by Sales Rep A this week by day" or "Deals moved from pipeline stage 1 to stage 2 this week".
Read more: Streamlining Data Access to Optimize Sales Performance
With data at their fingertips, the entire sales team is empowered to dig into the data behind their KPIs to confidently make decisions that are backed by a more holistic view of their activities and individual contributions to the big picture. When everyone can make better decisions, the entire organization benefits from the success of their data-driven strategies.
For sales software providers, it's imperative that their solutions offer users the opportunity to see success, fast. With better data access, software users are more likely to use their system more often and come to depend on those tools to not only get their job done, but also to improve their productivity, understand and exceed targets, and ultimately contribute more meaningfully to the company. In turn, this increased usage and customer loyalty drives revenue for the sales software provider.