AutoQL for ERP Construction Project Management Users
~3 minute read
Managing time and optimizing resources on a construction site can be a major challenge, especially when unpredictable factors such as water main leaks, electrical issues, or unexpected and costly discoveries (tree roots, gas lines, asbestos) arise.
When urgent issues do come up, it's sometimes necessary for team members to work overtime to fix them.
These situations threaten to derail the project's schedule and often necessitate overtime spending that wasn't initially scoped for as employees need to be paid 50-100% more during overtime hours. This can significantly raise labor costs and put the project over budget. However, leaving such issues unresolved can also cost the company money in the long run and negatively impact client satisfaction.
Typically, job site managers are responsible for making the call about whether to keep their team on for a few hours to fix an issue and deal with extra costs and discussions with the client or the rest of the project management team later.
When an urgent issue like a water main break comes up, site managers need to make decisions quickly and take rapid action. But making these decisions in the moment isn't always easy. Job site managers don't necessarily have immediate access to critical information that can help inform those decisions.
Traditionally, workers out in the field often have limited real-time access to data (if they have access at all) and they aren't able to easily discover new information on an ad hoc basis without contacting someone from the office to run a report or check details in a project plan.
Read more: Democratizing Data to Expedite Everyday Scheduling & Dispatching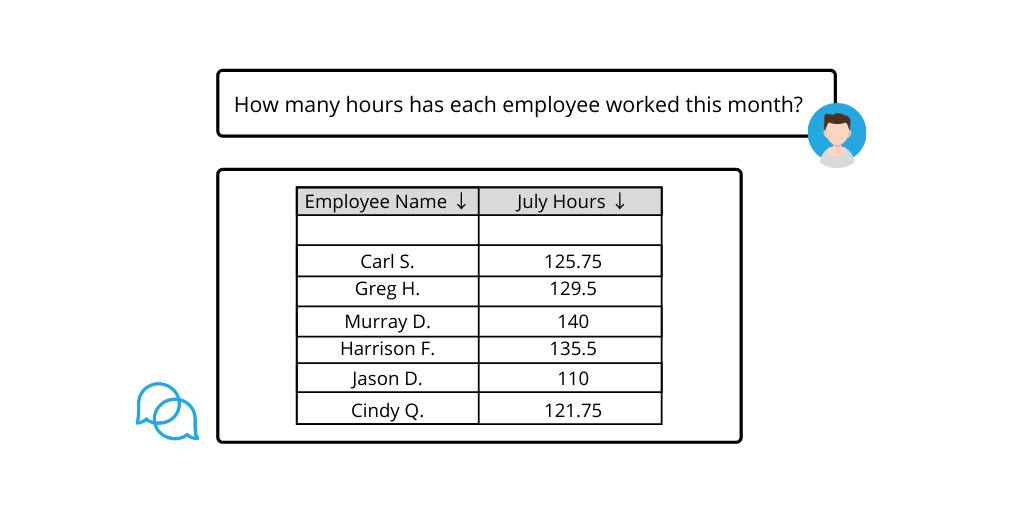 With AutoQL, users can access data on demand, at the job site or in the office just by asking the questions they already have about their data in natural language.
With an intuitive data access solution like AutoQL embedded in the operational software they're already using to manage projects, site managers can just ask for data-related information and receive instant answers.
When making real-time decisions about keeping the team on to work overtime, job site managers can inform their choices more strategically and know that they are making the right call when they have access to data about things like payroll and budget on hand.
Curious about whether the company can actually afford the overtime, a site manager can ask: "What is the total budget for project X?" or, more specifically, "What is the total labor budget for this project?" In order to decide which team members should stay to resolve the issue, the site manager can also explore "Which employees have incurred overtime this month?" or "How many hours has each employee worked this month?"
Even if there is no getting around paying overtime in light of the severity of the problem, the project manager can still see what impact of the situation has on the project by asking questions like: "How much overtime has this project accumulated this month?" or "What is the total cost of this project to date?"
With a self-serve option for ad hoc data access, anyone in the field can find answers in the data, instantly, without involving other team members or hunting through dashboards, past reports, or detailed project management plans.
Read more: Delivering Instant Data Access on the Warehouse Floor
The ability to access data on demand empowers the site manager to make the best decision for the company, and for the project, right away. Rather than dealing with potential consequences after the fact, the site manager can come up with an informed plan that not only gets the issue solved quickly, but is as cost-effective as possible, ultimately leading to increased client loyalty and expense mitigation for the company.
For project management software providers, this added layer of functionality will boost user engagement and encourage dependence on the system. Providers can leverage greater usership to boost revenue and branch out to new users at the companies they already serve.