Innovation in data accessibility will usher in a new level of business achievement across industries.
~15 minute read
In today's market, innovation, agility, and the ability to seize opportunities strategically are the cornerstones of the companies that are outstripping their competition and setting a high bar when it comes to digital transformation in their respective industries. Businesses are constantly looking for new ways to differentiate themselves and get ahead at every corner.
Data has become a central pillar on which every business – from the global enterprise to the local coffee shop – are building their competitive advantage.
Data serves as a single source of truth about what's going on in a business, providing teams with the information they need to innovate with purpose, stay agile, and engage wisely in potentially lucrative opportunities as the global economy shifts around us.
Data is critical to business success today and scalable growth tomorrow
Increasingly, access to business data is recognized as a critical part of every employee's job and, ultimately, the success of an entire company. At every level of an organization, teams need to be able to access and analyze data before making decisions and moving forward with actions that have lasting impacts on the business.
Data is a vital resource across all industries, especially as technology advances and opportunities for capturing and leveraging data increase.
By offering a window into the behind-the-scenes of every decision that's made, data sheds light on where improvements can be made going forward.
In a 2015 interview, GE's Jeff Immelt says: "A new jet engine might have a hundred sensors on it. These sensors have the capability to take continuous data about the heat of an engine, fuel consumption, the wear of the blades, the environment it's taking off in. And one flight between New York City and Chicago produces a terabyte of data. So industrial companies are in the information business whether they want to be or not."
This statement illustrates just how much data is generated in a brief amount of time thanks to advances in technology. The ability to generate and collect complex data won't slow down. Today's companies know it's fundamentally necessary to leverage data to ensure things are running smoothly and to stay on track in reaching their business objectives (in Immelt's case, information about the efficiency of an aircraft is invaluable under these high-cost, high-stakes circumstances).
With the volume of business data growing rapidly on a continuous basis, one of the roadblocks to wider adoption of data-driven processes and analytics is managing and accessing all that information.
This data helps companies build better products, track customer behavior, offer better customer experiences, understand employee performance, and streamline operations. By offering a window into the behind-the-scenes of every decision that's made, data sheds light on where improvements can be made going forward.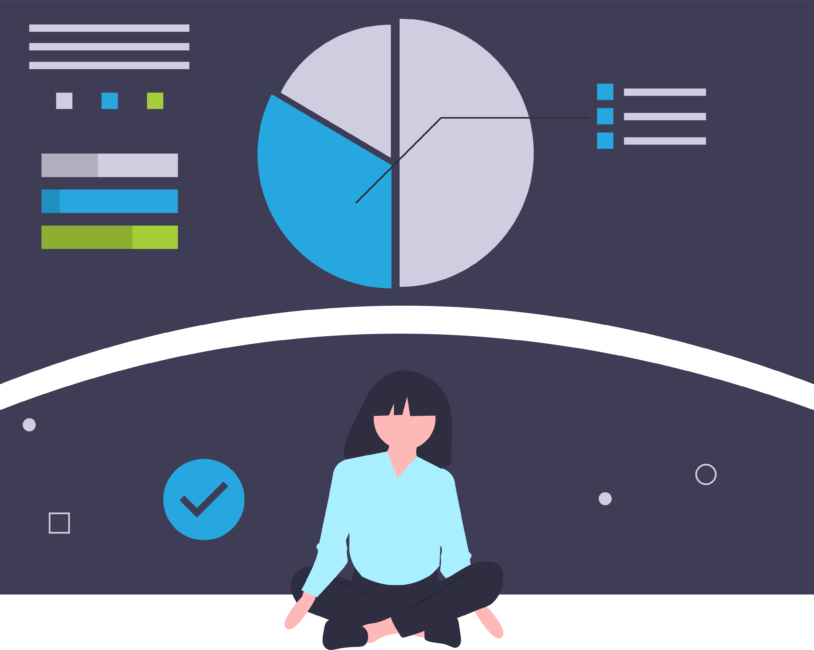 BI & analytics tools can employ conversational AI to expedite data access for users.
Through our development of proprietary technologies aimed at enabling data access through natural language, we've seen a rise in the demand for business intelligence capabilities and embedded analytics in almost every type of software businesses rely on.
While many of these software tools and systems offer powerful functionality, rigidity in available reporting, and the need to employ niche specialists to work with data or effectively use these systems is still a requirement. We need to continue to improve upon these solutions so that every business – and every individual employee – can access and leverage data more easily.
One of the emerging solutions to the issues that arise in the realm of data access and analysis is AI. Search-driven analytics and natural language solutions are cropping up in business software to help humans communicate more easily and intuitively with their data.
A powerful area of opportunity is the development of conversational AI built specifically for accessing databases. By employing the power of natural language (the words we use every day to communicate with one another) as a means of accessing databases and uncovering insights, business software systems will be able to provide users with the immediate and intuitive data access opportunities that are demanded in today's competitive business environment.
Read more:7 Reasons Data-Driven Businesses Need Conversational AI
Conversational AI monetizes the data held in software applications
Accessible data is the core resource that drives greater efficiencies in day-to-day workflows and enables the discovery of deep insights that can make or break the future of companies.
Data can tell us stories about everything from internal operations to product quality, customer behavior, expenses, vendor relationships, and beyond. Insights gleaned from business data help teams in every industry to identify opportunities, anticipate roadblocks, and stay agile as the company competes in a fluctuating market.
Data is also more prolific than ever before.
Thanks to the wide-ranging use of digital systems, data is captured at every step of every process: in the warehouse, on the sales floor, through advisory conversations or client meetings, within internal software or apps, through digital communications––the list goes on almost infinitely.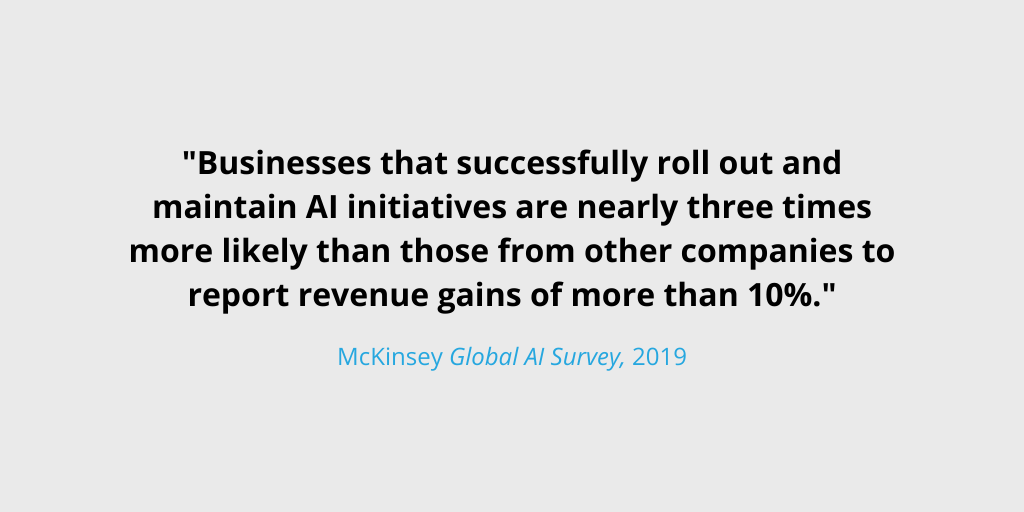 On top of providing the core functionality they are built for, business solutions must evolve to ensure that users have access to and can successfully leverage the wealth of data that's being collected and manipulated through these systems. This evolution necessitates the adoption of AI technologies aimed at making data access and analytics tools simpler and more widespread, and therefore more lucrative and scalable for the business.
63% of McKinsey's 2019 Global AI Survey respondents reported revenue increases from the adoption of AI in some capacity within their businesses. Businesses that successfully roll out and maintain AI initiatives are nearly three times more likely than those from other companies to report revenue gains of more than 10%.
Say that a marketing team member uses a CRM to plan, deliver, and analyze email campaigns. They trust the system to help them create engaging emails and distribute them to an aggregated contact list that has been identified and targeted for a specific purpose. At this point, the marketing professional already finds value in this software, but when the campaign is sent, they also need to know how well it's doing, what was successful, and what needs to be improved.
It's likely that this software is already collecting data points like open rates and click-through rates which the marketing team references to gauge the overall outcome of their campaign and discover insights that will help them send out increasingly successful campaigns in the future.
These reporting capabilities are a huge factor in determining why a marketing team would opt to use a powerful CRM: the more detailed data the system can deliver, combined with the overall ease involved in accessing this data, the more the team comes to rely on the system as an integral element of their everyday workflows.
If this system were to offer embedded conversational AI in its reporting and analytics toolkit, anyone on the marketing team would be able to find these meaningful insights just by asking questions in their own words.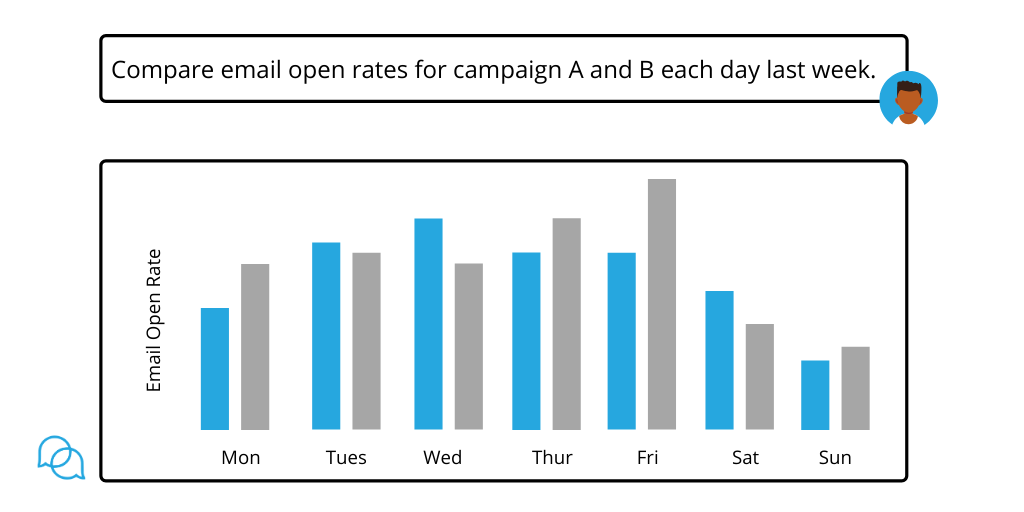 Conversational AI makes it easy to explore data in real time and discover insights faster than ever before.
Where the team might have previously run full reports, set up detailed dashboards that needed to be monitored regularly, or called on the software provider's support team to help them discover game-changing insights about their campaign, they can simply ask questions as they go, on an ad hoc basis.
The team can also benefit from increased flexibility and greater depth in their analytics process, which is something that's not typically afforded to those who don't have a data analysis or coding background.
With conversational AI, exploring data and getting answers to follow-up questions that arise is, again, as easy as asking a question in natural language.
Instead of leaning on a software provider's team to write custom database query statements to slice and dice data to meet specific needs, any user is able to ask their own questions, seamlessly drill into underlying details, and explore tables in their database that may otherwise have been inaccessible.
With elevated access to data, the marketing team can closely track details of their campaigns and unearth actionable insights on an ongoing basis, leading to greater optimization and higher potential for improved ROI on the next campaign they choose to launch.
Read more: Remote Teams Need Better Data Access Than Ever
Conversational AI speeds up onboarding and adoption
In this era of digital transformation, a major hurdle faced by modern companies is scaling the ability to access and leverage data beyond those in leadership or specialist roles.
McKinsey notes that: "While hiring new talent can address immediate resource needs, such as those required to rapidly build out an organization's AI practice at the start, it sidesteps a critical need for most organizations: broad capability building across all levels. This is best accomplished by training current employees."
Employing top-tier data specialists can only become a lesser priority if emphasis shifts to training and empowering other existing employees to engage in analytical tasks that drive the business forward. But it's both expensive and labor-intensive to upskill employees to build data-driven culture and processes at scale in a sustainable way.
Companies not only need to keep up with the constantly shifting market, they also need to be able to seize opportunities to innovate and leverage rapidly changing technology to stay ahead.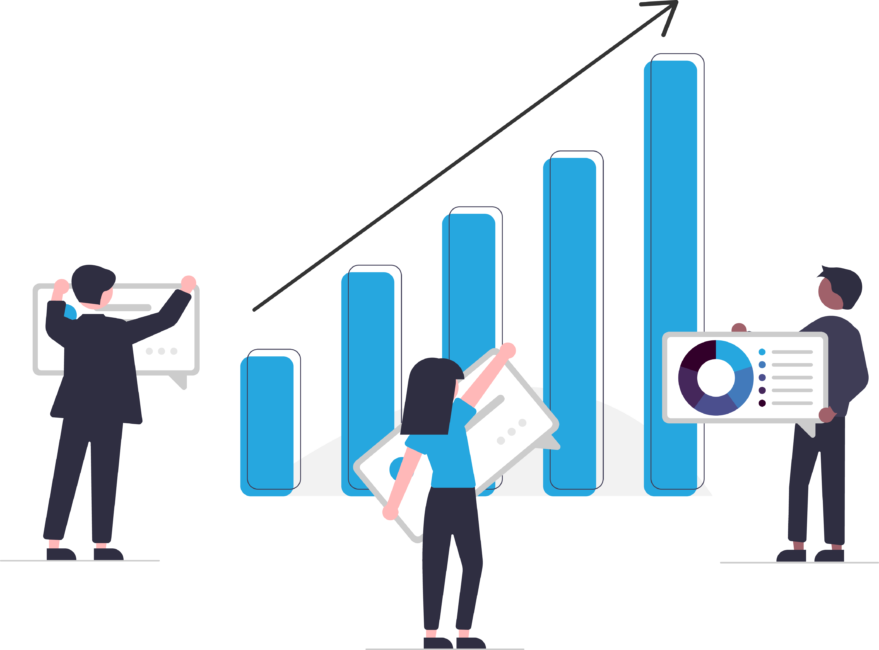 Agile teams demand rapid time-to-value, so they can adopt new technologies that drive better decisions for their business as quickly as possible.
The faster teams can onboard themselves to new software or features that offer the kind of accessible and flexible analytics capabilities today's competitive environment demands, the quicker an organization will see success. Selecting the right solutions that facilitate user-first experiences and intuitive onboarding process is crucial.
In a data-driven organization, every team member at every level of the company needs to be able to leverage data to do their job well. This includes "non-technical" employees who also need opportunities to access the valuable insights they require to perform at their best.
Traditionally, the ability to request reports or access data on an ad hoc basis may have been restricted to executives or leadership whose data needs are prioritized by constantly-overwhelmed technical teams.
To offer the same level of data access capabilities across the organization at scale, seamless onboarding needs to be prioritized within software itself, and designed to cater to employees at all levels, particularly those without data-related technical skills.
With access to databases handled in this manner, teams are free to focus on actually leveraging data for better decision making.
When rolling out new AI and analytics initiatives company-wide, or introducing new feature functionality within an existing analytics solution, intuitive conversational AI technologies and easy-to-navigate interfaces can expedite employee onboarding, relieve pressure on internal resources within a company, and lead to increased user dependency on the software solution.
With the help of conversational AI technology, individuals don't need to be explicitly trained to leverage a new tool or feature, they just need to ask questions in their own words to retrieve the data they're interested in.
With access to databases handled in this manner, teams are free to focus on actually leveraging data for better decision making, drastically reducing time-to-insights and time-to-action when it comes to driving the business forward.
Read more: Conversational User Interfaces: A New Era of Digital Interaction 
Enhancing functionality in software to drive better business
Software developers and business solution providers have a responsibility to build tools that help their users get work done efficiently. These tools should add value to existing workflows and empower users to produce impactful outputs for the businesses they work for.
It's no longer enough to help users get a job done: systems must also support the continual analysis and iterative improvement of the results of that work. The data, and the accessibility thereof, has to be a higher priority.
Software systems need to enable users to uncover insights about the status and the impacts of the work they do, so teams can make informed decisions and continue to improve in the future. The real value of an embedded conversational AI system is how well the data feedback loop is integrated into the software itself, giving every user the opportunity to gain a holistic lens into their efforts from start to finish.
Conversational AI can facilitate unparalleled data experiences within any software or application, democratizing data access across departments and entire businesses, and significantly reducing time-to-value when it comes to solution adoption.
Here at Chata, we see conversational AI reshaping the future of human-computer interaction. With better tools for data access that integrate powerful conversational AI capabilities, anyone will be able to easily find the insights that they need to make an impact in their business.