How did a small town northern Alberta farm boy wind up in a leadership role at one of Calgary's up-and-coming tech companies? For Reg Ouellette, the path from chasing chickens in Girouxville, Alberta (population 200) to Vice-President Partnerships and Enterprise at chata.ai was anything but direct.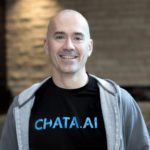 "I've done so many odd jobs in my life," says Reg Ouellette with a laugh from a meeting room at the The Edison in downtown Calgary, which chata.ai calls home.
"I've spent summers collecting honey from 2,200 hives at an apiary [stung thousands of times by his own estimate] and chased and captured 30,000 chickens all night to move them from one location to another [the worst job he's ever had]."
Eventually a Bachelor of Science degree in psychology from the University of Alberta followed by a diploma from SAIT in computer technology led to his first programming job at Shaw where he stayed for 17 years before joining the team at chata.ai.
"The English language is very ambiguous and training computer systems to understand and interpret that ambiguity will be key to chata.ai's success."
"It was at Shaw that I realized the value of data in the workplace, and more importantly, the challenges in accessing that data. I was the Manager of Network Database Systems managing Shaw's massive database and oversaw the Operational Support Systems (OSS) team. People were always coming to us for information. We had to slice and dice the data in the database in countless different ways for our clients and it was slow, awkward and challenging."
That's why he sees chata.ai and the work it's doing – helping users access, search and analyze their data using their own words – as so promising.
chata.ai CEO and Founder, Kelly Cherniwchan, agrees, "Reg's previous experience as a database administrator and architect is an incredibly important piece of the puzzle for chata.ai to achieve its vision."
The task of building such a tool, however, is not without its challenges, which makes it both exciting and daunting for Reg. "I know first-hand that data interaction is not easy. But with a cutting-edge tool like chata.ai it suddenly is very simple."
With the primary focus of chata.ai's first integration – accounting software giant QuickBooks Online – the team is faced with the technical challenge of helping users effectively "chat with their data."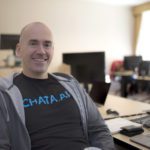 "Natural language processing is incredibly complex," says Reg. "The English language is very ambiguous and training computer systems to understand and interpret that ambiguity will be key to chata.ai's success."
For example, a potential user might ask chata.ai: 'what's my revenue' this month?' Another person would understand that the user is talking about total revenue, but the computer application might not. This ambiguity – and how the system should interpret and make sense of it – needs to be programmed.
The potential for a data analytics tool using natural language is incredibly vast, Reg believes. It's why he joined chata.ai he says, because he saw the potential in so many different markets.
"We're starting in the finance and accounting space, an obviously data-rich field, but there are so many other places to go in the business information ecosystem: Customer Relationship Management (CRM), ERP (Enterprise Resource Planning), etc."
As a leader at this start-up SaaS (software as a service) company, Reg is focused on getting chata.ai to new markets and building an exceptional product. Although this doesn't require as much heavy lifting as chasing chickens or dodging bee stings, helping chata.ai grow and chart a path requires plenty of hard work, flexibility and quick thinking. Reg is definitely up for the task.
– Cherine Hlady