NLP-Driven Self-Service Analytics for Business Users
Non-technical users get easy real-time data access to discover insights, reducing data request backlogs. Less demand on your technical team means more data-driven decision-making across the entire organization.
Powered by our proprietary generative AI technology, custom language models can be quickly trained and deployed for your organization.
Talk to us
Analytics for the modern enterprise
Chata.ai is a self-service analytics solution. Designed for non-technical business users and loved by analysts, it lets any user explore real-time data autonomously.
Self-service analytics for everyone
Receive secure self-service access to your entire organization's data warehouse. This removes manual entity labeling, canned data set creation, and data mapping for your technical team.
Get access to real-time data to make in-the-moment decisions. Removed restrictions mean continued business growth.
Take the tedious work of employee data requests off your plate so you can focus on higher-value business goals and analysis.
Eliminate the learning curve for business users. Get fast implementation and adoption as our solution's usability is immediate.
Access and filter detailed data without learning code, simply by harnessing Natural Language Understanding (NLU) to converse in everyday text.
Quickly and easily access data from the warehouse level to answer questions, track key metrics, and create alerts to take appropriate action.
Chata.ai's API-first approach makes it easy to launch secure deployment across numerous platforms, with cloud support and access from multiple devices.
"Microsoft Azure customers can use AutoQL to streamline access to data for everyone from executives to analysts and front-line workers. Chata's integration with Azure has resulted in a solution that brings innovation enabling strategic actions to be taken right away, an advantage that benefits businesses of all sizes."

Suzanne Gagliese

One Commercial Partner Lead, Microsoft Canada
"Employing Chata's Decision Intelligence within Dialect allows users (DIY investors or financial professionals alike) to access and analyze stock market data quickly and efficiently. Providing this capability sets Dialect apart because, now anyone can make data-driven decisions by simply asking questions, filtering data, and setting alerts in seconds."

Anthony Trzeciak

CEO, Dialect
Accelerate from data to decisions
Our self-service approach enables your organization and users to quickly access and analyze data at scale, simply by asking questions in their own words — for in-the-moment decision making.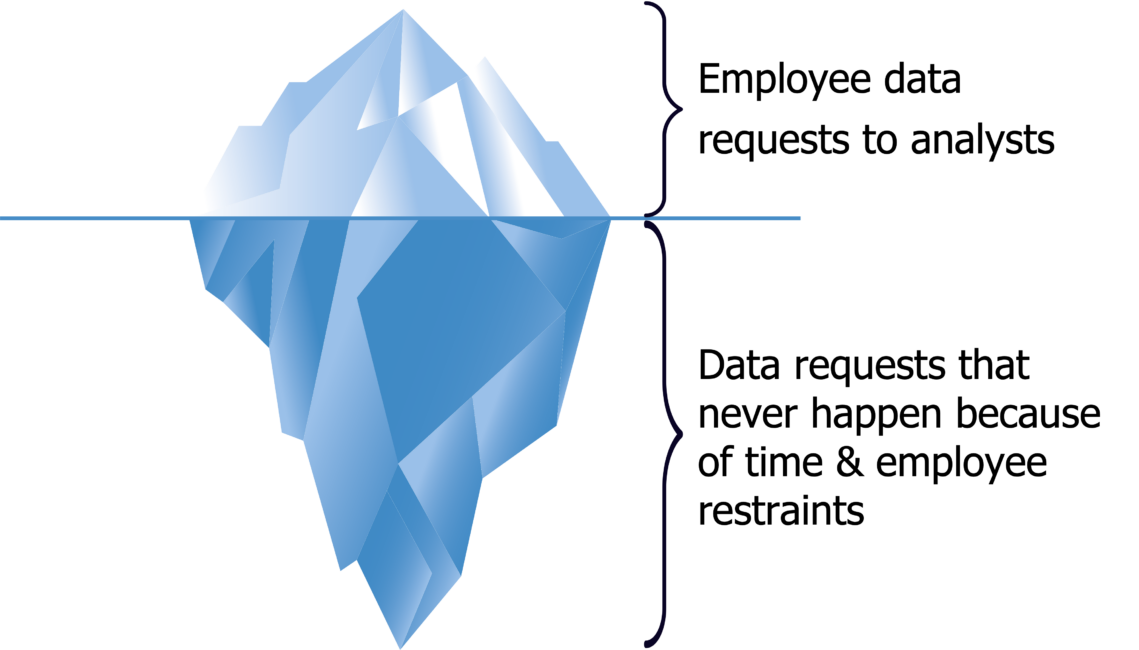 Discover valuable data that lurks just below the surface to give more users on-demand access to insightful business decisions.
"Self-Service Analytics is a form of business intelligence (BI) in which line-of-business professionals are enabled and encouraged to perform queries and generate reports on their own, with nominal IT support." – Gartner
Unlock insights from your data warehouse
Data Messenger for unparalleled data access.
Provide your users with a tool like no other. A simple chat-style interface enables everyone with self-service access to pull detailed data intuitively. Take the burden from your tech team by allowing your users direct data access that doesn't require analysts to perform database queries (in MongoDB, MySQL, Oracle, Snowflake, OData, etc).
Data Alerts for data-driven action.
Set your users up for success by never missing another opportunity through lack of awareness or waiting on IT — custom data alerts can be set up in seconds using natural language. Provide push notifications instantly when certain company metrics or thresholds are met, calling users' attention where it's needed most.
Dashboards for real-time insights.
Make company, team, and individual KPI monitoring a breeze with easy-to-navigate and customizable Dashboards. Free your analyst team from fetching data for others and provide a user-friendly chat-style interface that provides anyone with quick self-service access to vital business information and insights.
Chata.ai gives IT, data analysts, and decision-makers everything they need to implement and support AI-driven solutions across any organization.
Our API-first approach provides organizations with open-source widgets for customization, machine learning & training data generation for accuracy, and a custom language model for distinct data values. With our low-touch implementation process, you can get AI models into production in weeks—not quarters.
Democratize decision-making power across your organization
of companies that have fully embraced AI have seen an improvement in their decision-making.
of C-levels say that most of their decision-making time is used ineffectively.