CONVERSATIONAL AI FOR DATABASE ACCESS
Dynamic text-to-SQL translation for data on demand
Drive revenue, win new business, and get ahead of your competition with embedded conversational AI that powers cutting-edge data accessibility in your solution.
Request demo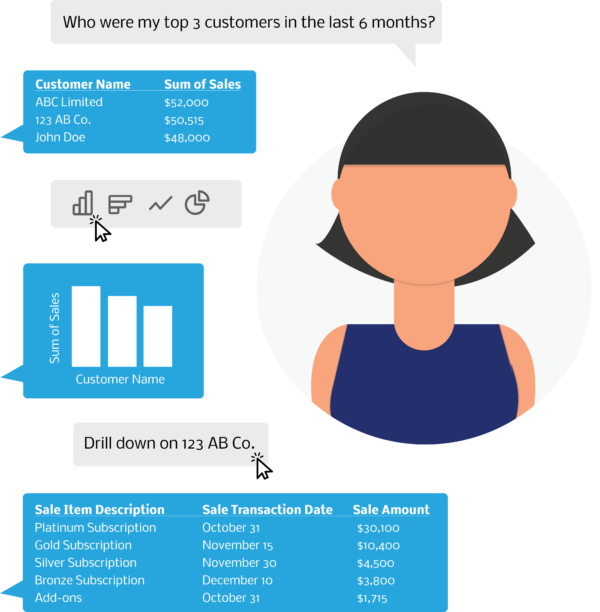 AutoQL is our flagship conversational AI service that enables the dynamic translation of natural language to database query language.
Conversation is the most advanced interface humans use.
It's time computers caught up.
Our vision is a future where humans communicate with computers the same way they do with other humans. Here at Chata, we build text-to-SQL technologies that close the gap between humans and their data by facilitating the dynamic translation of natural language to database query language.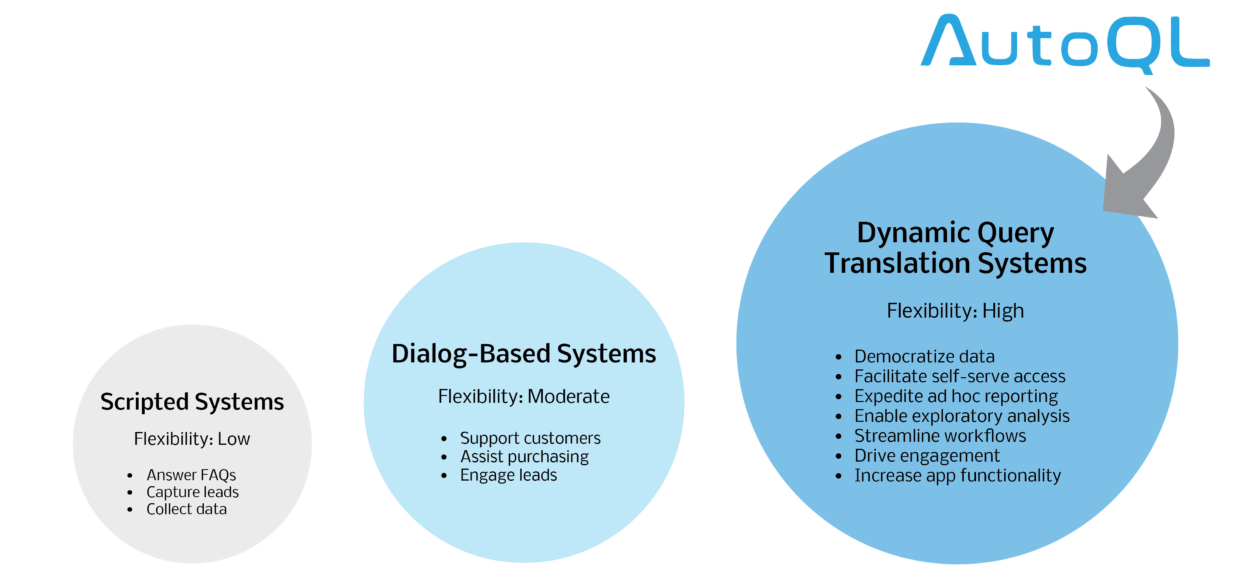 Evolution of Digital Conversational Experiences
Gartner predicts that by 2021, "

50%

of analytical queries will be generated via search, NLP or voice, or will be automatically generated."
AutoQL accelerates time-to-insights for rapid time-to-action on the data that matters most.
Autonomous data access for users means more time for teams
Leverage conversational AI to handle ad hoc user data requests. When your users can find what they need without submitting customer service tickets or requesting custom reports, your team can get back to business.
Successful users become avid advocates
Drive reliance on your software with a natural language interface to database system that empowers users to explore their data and discover the unique insights they need to make impactful business decisions, fast.
Enjoyable & efficient user experiences boost engagement
Level-up your software's functionality and power seamless, high-productivity workflows users depend on with conversational database interaction anywhere in the interface you already build.

Next-Generation Conversational AI for Database Access: The Technology Behind AutoQL
Learn more about the world's first conversational AI solution that enables dynamic text-to-SQL translation that empowers zero learning-curve data access for all.
GET WHITE PAPER

Developing Conversational Data Experiences: Intent Classifiers vs. AutoQL
See how building conversational AI for database access with an intent classifier compares to investing in AutoQL's high ROI text-to-SQL tech and ready-to-deploy UI options.
GET INFOGRAPHIC

Driving Digital Transformation: Conversational AI for Next-Generation Data Access & Analytics
Learn how text-to-SQL translation is reshaping the way businesses leverage data, and how software providers can drive astronomical value with cutting-edge data access functionality.
GET E-BOOK
At Chata, we've successfully built powerful language models for databases that belong to some of the most widely-used software applications.