Immediate, zero-learning-curve data access democratizes the power of data-backed decision making across the enterprise.
~8 minute read
In our previous post, we discussed how conversational user interfaces will improve upon current graphical user interfaces (GUI) and transform the way we interact with the systems we use every day.
We know that modern businesses rely on software that's designed with robust but often complex GUIs, and this is especially true in the context of tools that are built for data access, analysis, and reporting.
Though these systems are powerful, it often takes specialized training or niche expertise to get the most out of them. There's plenty of opportunity to make those systems easier to use so that anyone can get what they need when it comes to their data, but this requires a different approach.
Integrating conversational UIs with software applications that store data or are used to perform analytics (such as business intelligence tools, inventory software, wealth management software, etc.) will not only supplement the power of a great GUI, it will profoundly increase the value users get from using the system as well.
In a data-rich world where users are reliant on information to make critical decisions, conversational UI systems that act as "data messengers" offer a new way for companies to add value to their existing solutions, boost the accessibility of their interfaces, and meaningfully improve their users' experiences.
Conversational UI Increases Data Accessibility
The amount of data that systems are able to store has grown well beyond the real estate of the screen. Large volumes of complex data displayed in tables isn't digestible, let alone helpful, for users.
In the enterprise, specialists trained to write database query language can find particular pieces of information for other teams and initiate the process of transforming data points into useful insights. But this process can take days, if not weeks. Accessing data through code isn't available to everyone, and it's an intensive task that can't be easily done on the go or last minute.
BI and analytics tools have evolved to make visualizing data much easier, but the complex nature of data-related needs has resulted in equally complex GUIs that require a specialized skillset or, at minimum, some working knowledge of how to navigate these tools to be able to analyze the information and make meaning out of it.
Though many enterprise-level BI tools on the market enable data access and analysis using GUIs, there's another way to get more customers and users engaged with their data.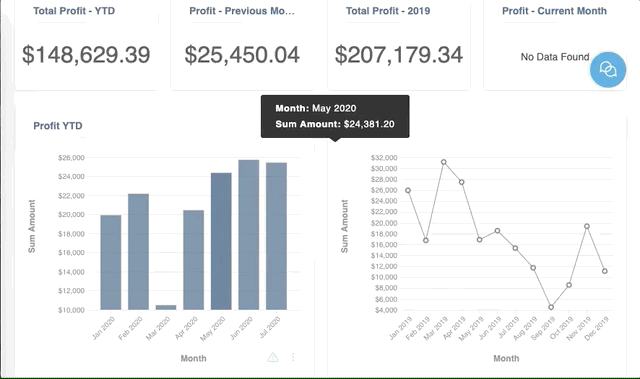 Deploy the power of AutoQL in the software you already build with our customizable conversational UI for database access, Data Messenger.
By leveraging conversational user interfaces backed by sophisticated conversational AI technologies, software and digital solution providers can add a powerful new dimension of data accessibility and functionality to the products they already build.
This kind of system is invaluable for users who want to access information and gain insights from their data without navigating complex systems or relying on skilled professionals to run and deliver ad hoc reports within their companies.
As the volume of valuable business data grows, it needs to be as accessible as possible for everyone. Conversational UIs are a solution to the need for seamless, low-learning curve database interactions.
Learn more about Data Messenger and introduce the power of AutoQL to all your users' workflows >>
Offering the Data Access Users Demand
For platform solution providers and independent software vendors alike, especially those in the B2B space, offering some level of data reporting is part of any comprehensive subscription.
Behind the scenes at most of these companies, engineers or data administrators are managing databases and running ad hoc reports to make at least some of that data available and actionable for users. But this work is time consuming and expensive. For everyday users of software systems that store valuable business data, access to specialized resources like these is often limited or simply unavailable.
Hashpath cofounder Seth Rosen makes light of this issue in this viral Twitter thread: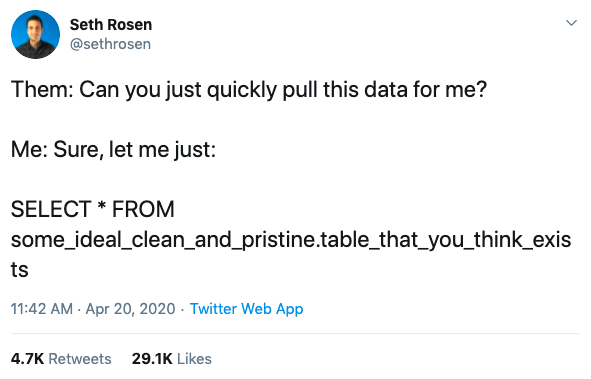 By using embedded conversational UIs designed for database access, users can simply ask for the data they need and get immediate answers. They can even analyze that data in exactly the way they accessed it: by asking directly, or querying, for that information. Workflows that would previously be interrupted because of a lack of access to data (or a lack of available personnel to immediately uncover that data) can be easily streamlined.
Not everyone who is interested in data is trained in accessing it, let alone in leveraging it.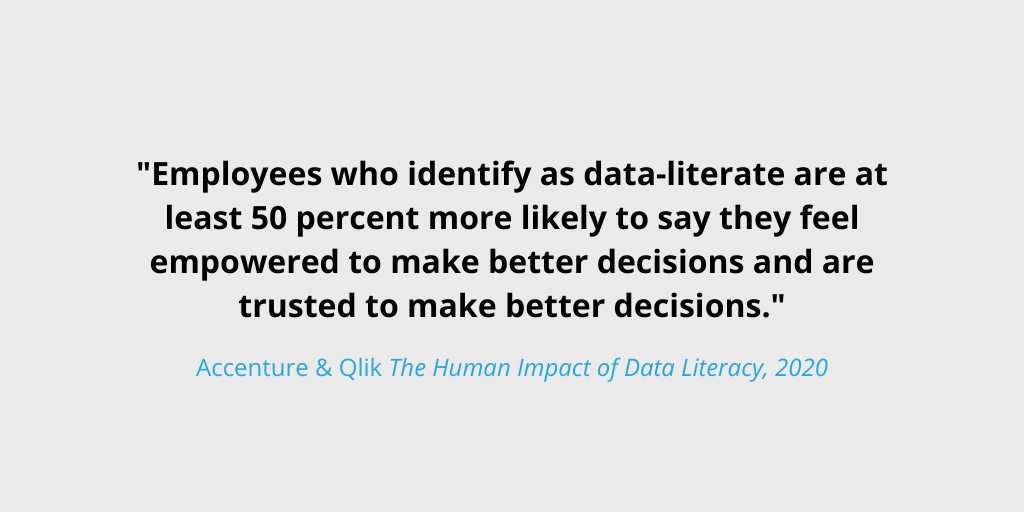 Let's return to the retail shop analogy from our previous post.  A customer might come into a store looking for a size 7 sneaker from a particular brand.
While the customer is likely capable of going into the back room and looking for the shoe they want, they'd need to be versed in the shop's organizational system, granted permission to access that space, and be motivated enough by their potential purchase to do the work of sifting through the shelves of shoes themselves.
That's a big undertaking––especially if there's as many shoes in the store as there is data in a database!
The quicker option is to simply ask the salesperson, who is already well versed in the organization of the back room, to fetch the pair of sneakers and bring them back for the customer to try on.
Similarly, a conversational UI can act as a touch point for the database, relieving the work required of IT team members, engineers, or anyone else who might be tasked with accessing data through BI tools or via database query language like SQL.
Read more: How to Talk Data with Conversational AI
Powering Conversational User Interfaces for Database Access
Though conversational UI innovation has shifted the way we interact with many digital spaces, a common limitation of these systems is the technological power behind the interface. Advanced conversational user interfaces that are designed for complex needs must be backed by powerful conversational artificial intelligence systems.
It's important to note that not all conversational UIs are driven by AI, but it's vital to understand that without a powerful conversational AI system working behind-the-scenes, any conversational UI intended to facilitate database interactions won't be able to provide the kind of seamless and efficient experiences we've been talking about.
Conversational AI built for database access needs to go a step beyond the technologies typically employed by chatbot builders, voice assistant developers, and conversational UI creators today.
Check out our in-depth article that explores what it takes to build and implement conversational AI for database access.