~3 minute read
Online commerce has opened an opportunity for retailers to infiltrate new markets and scale their businesses faster than ever. A major contributor to the success of today's e-commerce companies is their ability to track and leverage huge volumes of data to spot trends, deeply understand customer behavior, and create highly impactful targeted campaigns that skyrocket sales.
Thanks to robust reporting and analytics capabilities in the software retailers already use, teams can take advantage of data as a competitive resource by collecting insights from every website click, email open, and checkout transaction.
However, even with the widespread use of analytics technology, it takes time and money to train teams to leverage data as part of their everyday decision-making processes. Due to the sheer volume and growing complexity of data, it can be difficult for teams to keep up, let alone fully leverage it while simultaneously trying to scale their business.
Read more: Enabling Data-Driven Decision Making at Agile SaaS Companies
While there's no shortage of data, what's more important is removing barriers and friction between users and their data so they can access insights easily and quickly, from anywhere at any time.
With an embedded conversational data access solution like AutoQL, the software that enterprise-grade e-commerce companies already rely on can deliver an even more intuitive and seamless data experiences for every type of user within an organization.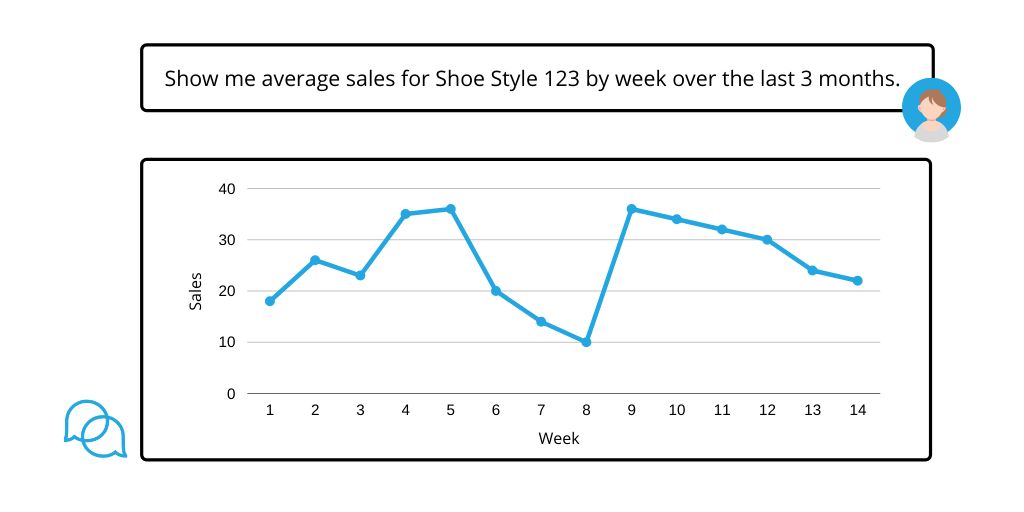 With intuitive access to data any time, anywhere, everyone can make data-backed decisions a part of their everyday workflows.
Employees in each department––from the warehouse staff to the communications team––need to be able to keep up with fluctuating inventory, shifting consumer trends, and unique customer behavior.
Instead of sifting through dashboards or reports and switching windows or tools to compare different data visualizations, users should be able to just ask simple questions like "What were the total site visits for campaign A versus campaign B?" or "Show me sales this quarter by campaign by item" and immediately get accurate results that they can explore further.
The marketing team can ask questions like "What was our total ad spend on BOGO promotions last quarter?" or "What were our top 5 sellers in menswear November 1 2019 to January 7 2020?" Customer service team members can ask "All returns requested last week compared to returns processed" or "How many sales converted via live chat by day last month?"
Warehouse staff can ask "Show me average sales for item X by week over the last 3 months" so they can optimally restock popular products.
Read more: Providing Zero Learning-Curve Data Access for Small Business Operators
With access to data on demand, e-commerce teams are empowered to make informed decisions, meet targets, and accomplish goals using data-backed insights based on the single source of truth driving their business: customer wants, behavior, and demand.
For e-commerce software vendors, adding a user-friendly self-serve data access solution to their reporting capabilities means that users get more value in the system and attribute their growth to a positive software experience. This drives revenue and passionate user evangelism that software providers can continue to capitalize on as the global industry of e-commerce continues to evolve.