AutoQL for Front-Line Sales Software Users
~4 minute read
Great front-line sales teams are constantly booking meetings, connecting with customers, and refining their strategies to help them hit their targets as quickly as possible. Sales data plays a major role in helping sales team members move deals through the pipeline rapidly, while creating exceptional experiences for both qualified leads and new customers.
During a busy day juggling calls and various digital communication channels, team members don't always have time to critically analyze their data in their sales software solution, derive insights, and apply them to each decision they need to make on the fly.
Ad hoc questions are bound to arise as salespeople connect with different leads and customers. While dashboards within sales software are typically built for a high-level overview of KPIs, the lack of customization and depth often leaves users to hunt around the software for more detailed pieces of data, or worse, leaves users in a position where they're unable to make data-driven decisions because they simply cannot access the information at all.
Read more: Empowering Data Exploration Beyond Sales Team KPIs
With a solution like AutoQL, it's easy for anyone to find deeper insights in their data in seconds, from wherever they are in the software interface. This allows them to quickly look up answers to pressing data-centric questions whether they are in the middle of conversations with potential leads or loyal customers, on their way to meet an important client, or prepping for an upcoming pitch.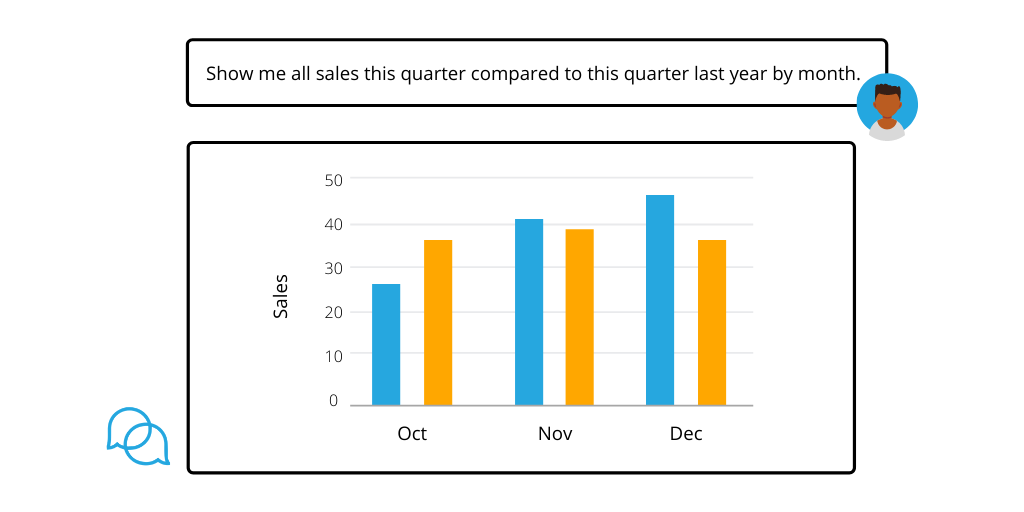 With intuitive, zero learning-curve data access options, front-line workers are empowered to back every decision with accurate information.
For example, a sales team member on a call with a hot lead hoping to understand their pain points and offer the best product fit for them. Without navigating to the lead's contact page, they can simply ask "Show me recent notes for Customer A", "What resources has Customer A downloaded from the website?" or "What email campaigns have the highest engagement from customer A?"
After this call ends, the salesperson has to answer a few emails regarding a recently-closed multi-user deal from a new customer. Again, without switching windows or navigating outside of their software, the salesperson can just ask questions like "What is the subscription billing start date for Customer B" and "Summary of all subscriptions attributed to Customer B".
They're also empowered to keep a better eye on their own KPIs as they can quickly ask questions like "Show me all sales this quarter compared to this quarter last year" or "Total leads moved from Pipeline Stage 4 to Pipeline Stage 5 this month versus last month".
Read more: Streamlining Data Access to Optimize Sales Performance
With data access on demand, every sales team member is empowered to leverage information and insights to communicate better with leads and customers and to track their own performance in a more meaningful way.
This helps team members generate a higher volume of deals in the pipeline and move leads through that pipeline at a higher velocity, ultimately resulting in targets being met and increased revenue for the company.
For sales software providers, offering more seamless access to analytics and reporting is imperative to keep a competitive edge in a data-driven market. By offering next-generation data access functionality, sales software providers can increase user engagement and dependence that enables them to earn the reputation of being the most trusted solution for data-driven sales teams across every industry.