AutoQL for CRM & Live Chat Software Users
~5 minute read
Great customer service is driven by excellent relationship building, exceeding expectations, and meeting customer's exact needs, every time.
Customer service teams aim to deliver high-value, personalized experiences that win loyalty and garner rave reviews, encouraging positive reputation building and leading to the acquisition of new customers.
One of the best ways to deliver those tailored and impactful experiences is through collecting and leveraging individual customer data to spur continuous improvement and innovation.
Meaningful information from customers is produced via live chat, email, or by phone. Customer relationship management (CRM) solutions help teams keep track of all that information. However, accessing and leveraging customer data on a regular basis is often secondary to addressing customer issues, solving tickets, and providing exceptional customer service in the moment.
Team members might look at individual customer data when they hop on a call, are engaging on live chat, or sending an email, but they often have to navigate through the CRM solution to find customer information, dedicating time in their day to finding answers to questions they have about the customer they are about to correspond with.
To access data, managers or team leads might keep an eye on how things are going by monitoring high-level dashboards built into their CRMs, or even by tracking this data in spreadsheets and running their own reports with the intention of sharing and analyzing their findings in follow up team meetings. But processes like these are far from frictionless.
Read more: Offer Cross-Functional Teams Exceptional Exploratory Analytics
Though it may be true that the organization is striving to be data-driven, they haven't entrenched data processes seamlessly in their daily workflows, nor have they prioritized insight-oriented culture across roles, both of which are necessary steps in today's era of digital transformation.
With a solution like AutoQL embedded in the CRM system they already rely on, every individual on a customer service team is empowered to access and leverage their customer data to provide better experiences in real time.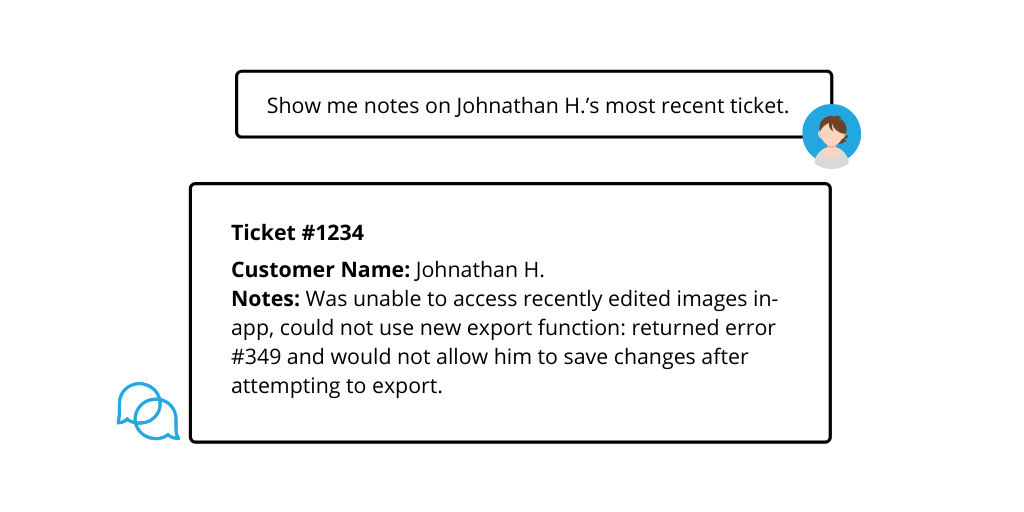 Empower your users with an intuitive conversational interface built for seamless access to the data they need to do their jobs. 
Instead of searching through a library of contacts and attempting to analyze lists of resolved and unresolved tickets, anyone can simply ask the questions they have about their customer profiles and customer interactions, and receive immediate answers.
For example, a longtime customer is on the line trying to figure out a new feature in their SaaS product, and they mention that they have had similar issues with onboarding to new features in the product before.
In the moment, the customer service agent can easily check what support issues the customer has previously reported "All support tickets submitted by customer X", or "Show me notes on customer X's most recent ticket".
Getting this information gives the customer service agent an immediate picture of the customer's experiences with their product to date and serves as a point of reference for their continuing conversation.
If the agent asks, "How many days to resolve ticket #1234?" they can immediately see whether there's a previous track record for slow resolutions that can be mitigated during this current interaction.
The customer service agent can pull up specific data pertaining to the customer without having to switch windows or navigate through menus, just by asking questions like "Show me MRR for this customer" or "Which subscription does customer X have?" If the agent has an opportunity to upsell the customer on the call, they can also quickly ask questions like "What add-ons has customer X bought?" or "Subscription history for customer X".
Read more: Empowering Customer Service Teams with Insights on Demand
With direct, intuitive access to the important customer information contained within the CRM, customer service agents are empowered to make fast decisions that resolve tickets more efficiently and earn more business. When the agent already has a clear idea of what the customer has experienced in the past, they can offer a more personal and thorough experience in the moment.
Leveraging this new data on demand functionality, customer service software developers can offer their users the increased flexibility and extended data access capabilities that fast-paced digital business demands. When customer service teams bring in and retain more business, the CRM and customer service software providers that support them earn trust and enthusiastic, top-tier subscribers.